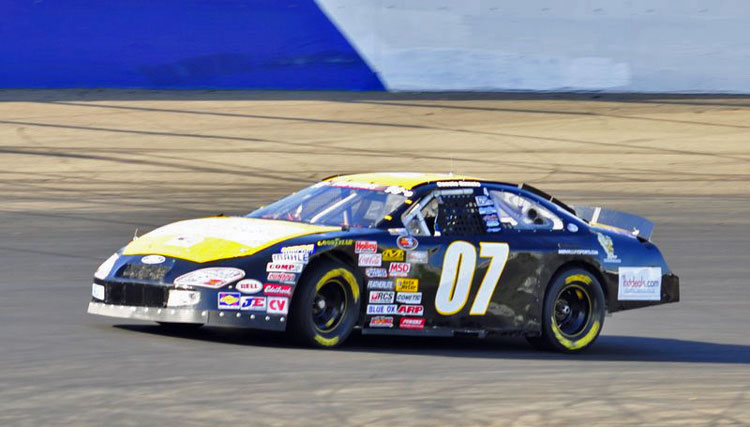 This is a transcription of a short interview between Mike Coraluzzi of MotorSportsCareerAdvisor.com and Professional Racing Driver, Cassie Gannis.
Brief Bio: Cassie is a ARCA Touring Driver for Team C2 Motorsports and a NASCAR Whelen All American Series Owner & NASCAR K&N West Driver. She was the featured Guest Driver to race in the Susan G Koman "Race for a Cure" racecar at Tucson Speedway. She was also chosen by Michael Waltrip and PEAK to attend the PEAK Stock Car Dream Challenge which aired on SPEED and FOX Sports 1 and she's the team owner of her own NASCAR Super Late Model Team. Cassie also is a Professional Speaker, Instructor and a Guest Host on TV and Radio.
Mike: Can you discuss the advantages of the education and personal characteristics that you think have helped you?
Cassie: As far as education goes, I honed my racing skills by working for Rusty Wallace Racing School. At a time when I couldn't afford to test, I worked for them without getting a paycheck and felt I was able to get hours upon hours of time on tracks throughout the west. This proved to be an invaluable experience. I also worked on my communications skills with older adults because I was so very young. Because of that I became a favorite for corporate events. I also took a public speaking class in high school because I was so very shy. It was so great because I was in the class with all these "speech and debate" kids. I learned so much and learned more about myself.
I also attended several Driver Development programs during my career. The Lynn St James Driver Development Program was at a critical time when I was taking a lot of heat about being a female racer. The fact that I was around other premier women racers from other series was very empowering. I had a typical academic high school experience, attended college with a Major in Veterinary Studies and am now a Veterinary Technician. My love of animals is what drew me to that major. I also wanted to have a Plan B.
Personal characteristics in my nature that have helped me in racing are my drive, determination, very good work ethic, and gratefulness for what I have. In this business you have to a have thick skin. I don't let things get under my skin but yet I know when to stick up for myself. You need a good balance. I'm also very thankful for all the people that help me, especially my fans! Without any of them I couldn't do what I do. After all they are the people that buy tickets to the racers, buy memorabilia, and buy team and sponsor products. I never lose sight of that. That is why I will go the extra mile to sign that autograph because it is the fans that make racing. I also want to add that racing is my passion! My parents warned me that if I ever got into trouble my car was gone. That sense of doing what is right has stayed with me to today. I'm not interested in acting out or getting into trouble. I'm focused on my goals, work hard and am always driven to do better. Hope that makes sense.
Mike: Do you have any suggestions for newer motorsports job candidates regarding a strategy to attain a good position within motorsports?
Cassie: I was very young when I started racing quarter midgets. So my answer would depend on where you are in your life. But if you are like me and don't come from a racing dynasty or a rich family, then I would plan on working hard. I would begin by finding a track nearby and see if you can volunteer to help a team. Watch and learn, ask questions and don't be afraid to get dirty. I am so glad I work on my cars! Knowing the in and out of my racecar really helps with crew communication. Watch track video (local, regional and Cup), listen on a headset to driver and spotter communication and start racing carts.
Mike: What have been some of your biggest challenges as a motorsports professional and how did you overcome them?
Cassie: I would say I have had 2 big challenges. The first was when I was 15 and was told I had a 50% left thoracic curve in my back. I had been in a body brace for years that I had to wear 16 hours a day but it wasn't helping. The curve had progressed so bad that it was impeding on my heart and lungs. It was at that point I had to have corrective Scoliosis surgery and was told I would have to be out of the seat for a year. Let me tell you, it was not easy! The surgery went well and I grew 2 inches during the surgery by being straightened. I was left with 2 titanium rods in my back that are 12 inches long and a scar that goes from the base of my brain to my mid back. It was extremely painful but because of my drive to get back in the seat I was out of ICU in record time. I worked my butt off in physical therapy and was asking my doctor at the 6 month post op mark when I could get back in my car. Finally at the 9 month mark I was allowed. I really pushed myself and worked hard. The only thing I can't do now is a back flip and I don't think I will miss doing that.
My second biggest challenge is funding. It is very hard to get marketing dollars today. As I mentioned before I don't come from a racing dynasty or a rich family. I continue to work every day seeking out sponsors. I really think funding is probably hard at any level of racing. Sometimes it is just luck or being at the right place at the right time. I continue to send out bios and marketing packages. I also make appearances when and where I can because you never know where a contact can come from.
Mike: What is the #1 trait or characteristic that you think will contribute to a student's future motorsports career success?
Cassie: A good work ethic is essential. Taking pride in how you show up at the track, be on time, work hard, go the extra mile are just little things to let people know you are serious about your career. Read and learn everything you can about racing. I want to add a personal thing that has contributed to my success. It is having a positive attitude. In the pits and on the track I am known for my smile. I always say hello to everyone at the track. Everyone working from the top to the bottom are there for the sport that I love and I want them all to know that they are appreciated. I don't do this in a silly manner but in a way that recognizes them for being there. Maybe you could say it is part of my brand. But for me there is no time for whining. I may get mad or frustrated once in a while but I never loss my temper. I would rather debrief about the situation later and talk about it rather than complain. Thinking about a solution is so much better than complaining about a problem.
Mike: Thanks for the interview Cassie – what a great story and great advice.
Cassie: Thank you!
*You can learn more about Cassie at her website http://www.cassiegannisracing.com/.