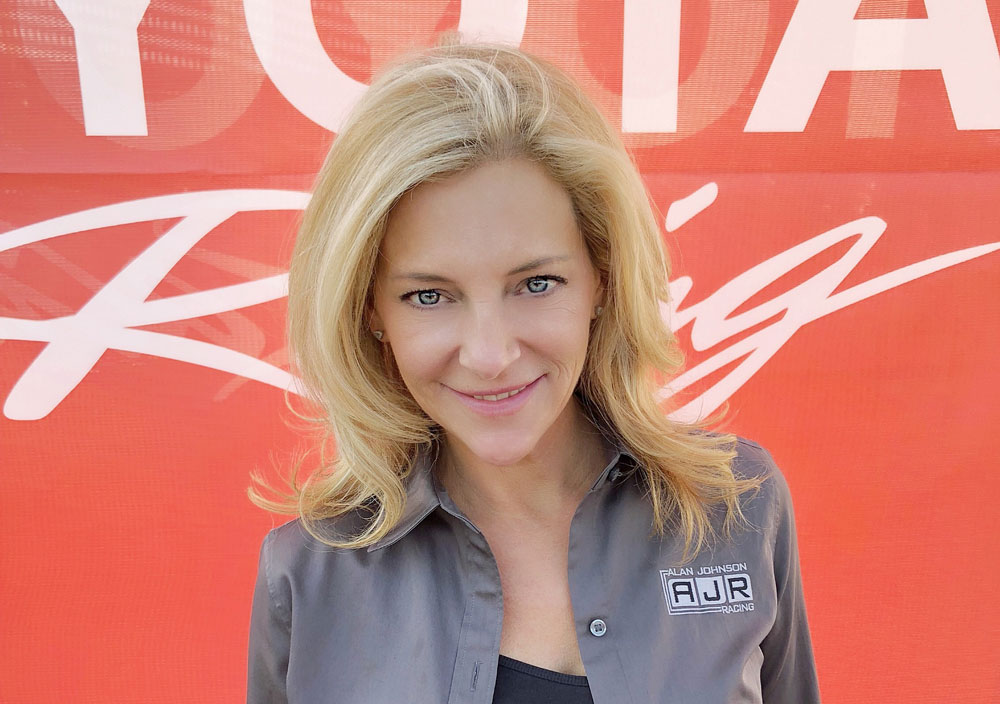 Tami Powers has been the Director of Operations and Business Development at Alan Johnson Racing for over nine years. Alan Johnson Racing is one of the most successful NHRA teams ever and NHRA's 12x World Champion tuner/team owner Alan Johnson has a personal success track record a mile long. In this short interview, Tami shares her background and how she worked her way into a pivotal position on this legendary team.
Mike: So how did you get your start in Motorsports?
Tami: I fell into it really. Back in 2000, I met team owner/Crew Chief Alan Johnson in Los Angeles while he was in town overseeing an edit of a marketing video for his race team(s). The stars aligned and we began working together.
Mike: Can you tell the listeners a little about "top fuel" in case they don't know?
Tami: The Top Fuel category in the NHRA is the highest level of professional drag racing. The best way to describe it is sensory overload to the nth degree. It's a must see/feel LIVE. I've never in my life experienced more of a rush at a sporting event than I do in the presence of these 10k + horsepower beasts.
Mike: You worked your way up to Director of Business Development/Operations at Alan Johnson Racing – How did that happen?
Tami: I originally started out in logistics and dabbled in marketing. Throughout the years Alan gave me more and more responsibilities which led to my promotion to Director of Operations and through a natural progression, he asked me to add development into my duties. Since then I've learned so much about creating great race programs and building authentic relationships with brand partners. I'm truly excited about the future.
Mike: What's involved in your "business development" tasks?
Tami: Business Development has been the grand prize for me. It's really fulfilling to create programs and connect incredible people together with common goals. The relationships built on and off the track are based on the needs of our partners and prospects. I'm a problem solver, how great is that?
Mike: So what have been some of your biggest challenges working in these areas within Motorsports?
Tami: I think business development in any sector has its challenges. It's not just about bringing solutions to those who seek them. There needs to also be a solid foundation of trust. Before you ask for an official partner relationship, be a great partner.
A large percentage of what I do is research. I really get to know the brand/company I wish to partner with, what their current initiatives look like and if we hold the assets to help them execute.
The National Hot Rod Association (NHRA) is a unique and exciting property experiencing incremental growth during some hard hit times in Motorsports. It's a great time to connect mainstream brands to our sport.
Mike: What are some of the newer opportunities in your Motorsport work that you see developing?
Tami: The NHRA is known for its diversity. I've been able to gain a lot of traction working with a female Top Fuel Driver. Developing partner/brand relationships with her has opened up a whole new realm of possibilities. My prediction, in the next decade we will see more mainstream consumer brands supporting the NHRA and its teams. Our fans are fiercely loyal and their customers. NHRA is a value brand; very effective!
Mike: From what you've seen and experienced what suggestions or advice would you offer to Motorsports students who want to ultimately get into a position like you have?
Tami: Build authentic relationships now. Your word is your bond, never be flakey. Be thoughtful, learn about people. If you don't have incredible organizational skills, surround yourself with people who do. Never, ever think inside the box. Have enough confidence to organically disrupt.
Mike: Awesome Tami – thanks for your time. This is very valuable to anyone thinking about a position like yours.
Tami: Thanks Mike -bye!