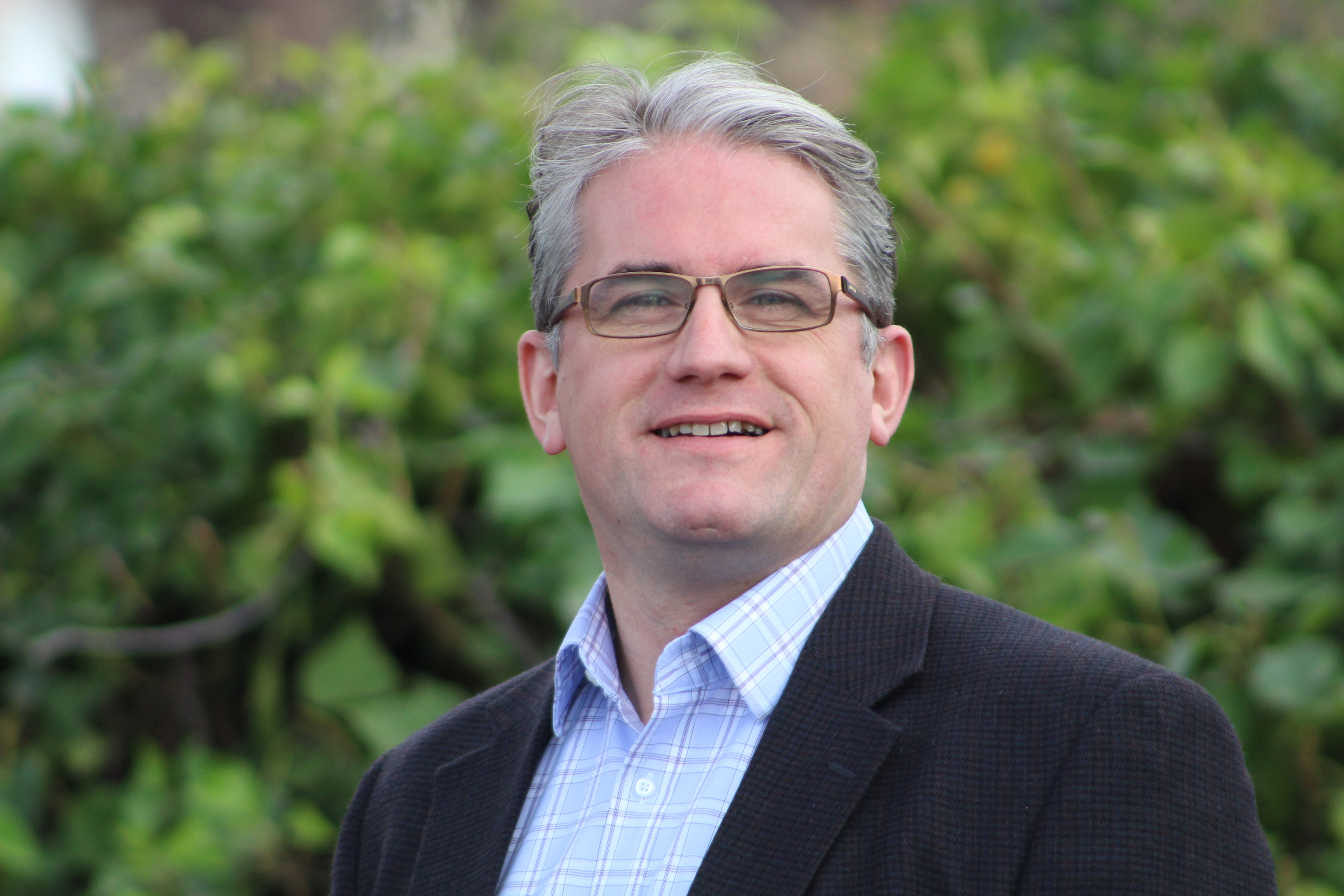 Bio: Jan Van Bruaene joined RTI in 2006 and has over 23 years of experience in technical and customer-facing leadership roles at companies such as Sun Microsystems and VLSI Technology. He has led professional services, support, and engineering organizations and has experience in middleware, grid application and infrastructure software, operating system design and device driver and network chip development.
Jan came to RTI as a Senior Application Engineer, providing training and consulting services to customers using RTI Connext software. Next, Jan developed a new support organization which achieved a record-setting 98 percent customer satisfaction rate. As the Director of Application Services, Jan lead a team of application services engineers delivering system design and custom implementations using RTI Connext technology and middleware. In his current role of Vice President of Engineering, Jan is responsible for RTI's Research and Development efforts. He leads a distributed engineering team of more than 60 people developing RTI Connext's software, and is responsible for the software development processes and product quality.
Jan graduated with an MS equivalent degree in Electronics, Digital Communications (Summa Cum Laude) from KIHK in Geel, Belgium.
Mike: Hi folks, we have Jan Van Bruaene of RTI on the line for our Expert Interview today. Jan thanks for being on. Can we get started with you telling us a little bit about your background please?
Jan: Hi Mike. It's a pleasure to be here. I'm the VP of engineering at Real-Time Innovations, also known as RTI. I've been with RTI for almost 14 years now and been in various roles in the company. I originally joined the Services team, providing guidance on how to use our technology, and training. Then I built a dedicated support organization. I've managed large projects and since about the last seven years, I am leading the research and development team, which is, a group of about 70 people. The engineering team is based in two places: our headquarters are here in Sunnyvale, California in Silicon Valley and we have a development office in the South of Spain, in Granada.
Mike: Great, thanks for that. Could you tell us what RTI does? I was on the website and looked around. There were a lot of different specialties. For the purpose of this interview, we're talking about more of the autonomous vehicle technology. To start us off, can you give us a background on RTI please?
Jan: Yes, of course. RTI is the Industrial Internet of Things connectivity company. That's kind of the marketing summary of it. The Industrial IoT, as opposed to the consumer IoT, is all about complex systems, rather than individual devices, such as Nest Thermostat, IP cameras, and smart locks. The IIoT spans the new technologies in a number of industries, including new transportation systems and the next generation of automotive systems.
What do we specifically do? We are a software company and build the RTI Connext® Databus, which is a software framework that shares information in real time, making applications work together as one, integrated system. It connects applications within the smart machine, but also across the edge, fog and cloud.
For us, it is about reliability, security, performance, scalability and safety. We've been deployed over the years in a wide variety of critical systems, including autonomous planes, trains, cars, traffic control systems, etc.
In automotive systems, RTI Connext DDS is used as the real-time databus inside the car to enable the development of Connected, Autonomous, Shared and Electric (CASE) mobility solutions. Our technology is also being adopted by manufacturers and framework standards around the world, including AUTOSAR and ROS.
As you saw it on the website, we have a huge number of deployed systems in many different industries. If you look in the autonomous space, we have quite a few customers building autonomous vehicles, from flying cars to autonomous military vehicles to consumer vehicles and trucks. Our software is also important to train applications. We like to think we provide the critical, central databus technology that enables these autonomous vehicles.
Mike: Thanks. That helps a lot. Is it safe to say that we're just in the beginnings of developing those technologies? Or how far is there still left to develop?
Jan: It is true there's definitely a lot of buzz these days around companies like Waymo, Uber, Zoox, and Rivian. However, to RTI, this is not an entirely new world. We've been working with customers building autonomous vehicles for years. They are not your typical consumer vehicles, rather off-road or military vehicles. As often the case, the military is early in the exploration of these technologies. Some of this goes back to the grand challenge organized by DARPA more than ten years ago. So for us, this is not an entirely new space.
What's new is that the problem has gotten a lot more complex. Building a surveillance drone and flying over a desert is already a challenge. Now you are no longer talking about a drone, but a car, driving onto normal roads, with other vehicles, with pedestrians and cyclists. There are a lot of challenges to overcome.
Mike: All right, thanks. With that said, you're the VP of engineering where you need a large development team. Can we now work backwards and hear the development of your career, from your beginnings as a student? Like please describe where you began and how you got to where you're at now?
Jan: Sure. If you look for a common thread through my career, it definitely has to do with networking. I originally went to school in Belgium, where I grew up. After I got my engineering degree, I came to Silicon Valley, initially only for a couple of months, as part of an internship/exchange program. That was at the right time, just before the dot-com boom in 1995. I was offered an opportunity to start my career here at VLSI Technology, where I had been doing an internship working on telecom chips. In the networking group, we were building fast Ethernet chips, and we built the first CMOS gigabit Ethernet chip. I built demo systems, validation boards, test applications, and characterized the performance. I also created datasheets and application notes. It was a great first job after college.
After my days at VLSI technology, I joined Sun Microsystems ("the dot in dot-com" "the network is the computer."). That was a much bigger company. In the I/O technologies team, we developed Driver Development kits for PCI, USB, Firewire, etc. We helped third-party developers build device drivers for networking cards, USB devices, storage cards, etc. We also worked with them to qualify their products in a variety of Sun workstations and servers. Sun's workstations were transitioning from SBus technology to PCI. This was an important transition for the company. After about seven or eight years, through the ups and downs of the dot com boom, I decided to join RTI, where I focussed on building the software (middleware) that allows distributed applications to communicate efficiently.
Initially at RTI, I was an individual contributor directly working with customers. As part of the Services team, we helped customers design and implement solutions using the DDS technology. Over the years at RTI, I transitioned to more leadership and technical management roles, as support manager, director of application services, and currently as VP of Engineering.
Although my focus is now on recruiting and organizing the team, I remain involved with the technology. I understand the new features we work on, I understand the bug reports, etc. It allows me to do a little bit of both – still be highly technical, but without having to do any of the coding. We have a fantastic team that does that.
Mike: Thanks, That's good. It's always good for students to hear career paths, because it's a big mystery to a lot of students. With that in mind, have there ever been any challenges, significant challenges, you've overcome including employment type challenges?
Jan: There are a few challenges I can think as the group got bigger. When I joined RTI, we were about 40-50 people. Now we're closer to 200 people. Originally everybody knew everybody. Our systems and processes were simpler. Just knowing who to contact may be a challenge in a larger company, and you need to work harder in communicating plans and news. As you grow the team, you need to provide more structure into how you go about things: e.g., to scale hiring, we create more recruiting teams. We make sure we have a documented hiring process and train the new recruiting teams. Beyond recruiting, we also worked on the on-boarding and training of new hires. I enjoy this part of the job a lot: figuring out how we can get somebody be familiar with your technology in a shorter time, and be effective in the team.
There have also been a number of challenges growing the team. If you would ask me that question a few years ago, I would say finding engineers with the right skill set was a big challenge. A lot of students were focusing on other technologies than what we were using. They were looking at Javascript, Python, iOS, Android. That has changed a bit. Now autonomous vehicles are sexy and programming in C is no longer old-school. You find more and more students programming in C and C++ again, and working with the Robotic Operating System (ROS), or being part of a program related to Cyber Physical Systems (a fancy name for smart machines).
Over the years, we did find a few great universities who have been focusing on technologies for real-time distributed systems. Now you see some great resumes with students using ROS, prototyping with kit-cars (e.g. with the "donkey car"), going to robotics meet-ups, doing related internships. So skill set is no longer our biggest challenge.
There are a few exceptions though. I would still say that security is a skill set that is challenging to find. Security continues to be an important aspect when building autonomous vehicles. You've probably seen the videos of people hacking into a driving car and being able to control it. There is a scarcity of security engineers out there.
In Silicon Valley, the competition for talented engineers remains fierce. There are a lot of great companies here, and there aren't enough engineers. In the past for us as a small company, it could have been challenging to compete with some of the big boys here like Google, Apple, Uber, etc.
Also this has changed a bit for us. We have, as a company, a great story. We have important customers, big names with great applications. These are projects your friends and family have heard of. More importantly, we have a fantastic culture at RTI. I know that when we actually get to tell our or story to prospective employees, I'm not afraid of any of those big companies. We have a chance of recruiting them. The truth however remains that many candidates have several competing offers.
Mike: Well I think you may have already answered this question but I wanted to clarify. I heard you mention "security" in there, but I had a question written down as far as what do you see as the job skills and experience that are in demand for existing and future autonomous vehicle job-type work?
Jan: Indeed security is important when building autonomous systems, and for that matter, for any software company. We are spending a lot of time building a secure Databus. Other sought after skills are C and C++. You also see a lot of demand for experience with machine learning and artificial intelligence (AI). Self driving cars are learning how to handle changing environments through AI algorithms. Furthermore, a background in robotics and simulation are important. Finally, I see more and more companies looking for a background in functional safety.
Mike: Right.
Jan: Perhaps this may not be the highest priority yet for a startup who is putting together their initial prototype. However, when you start thinking about delivering a product, you need to think about the risks and about safety. Functional safety is something that the traditional car companies know and live in every day. There a number of standards out there already. With the uptick in a new type of vehicles, I expect more and more need for safety expertise.
Lastly but not least, with regards to job skills, you will see more and more demand for DDS. I see it already showing up on the job listings for several autonomous vehicle startups. It is RTI's technology which underpins many of those robotics-on-wheels.
Mike: Just for students or people who don't know, what is that acronym? What does that mean?
Jan: So DDS… "data distribution service" is the technology upon which our products are built. It's a standard technology for connecting real-time distributed systems. There are several companies implementing the DDS specification.
Mike: That's good. You told me about security, programming, robotics, simulation. So, what about for a student in school in her second year or third year. I mean are there many other types of courses that students should focus on or did we already nail that down? I don't know – are there security courses? And what about risk analysis?
Jan: The skills I mentioned prior, are now more and more part of the common curriculum of somebody interested in robotics, cyber physical systems or machine learning. Make sure you move beyond the theory and spend time programming.
I do have a couple of other pieces of advice and I've shared them on our RTI blog for students. I think that number one, carefully choose your internships. I see sometimes resumes that are academically perfect: the right classes, the right projects and skills, and great grades. Though it lacks a tad of real-world projects, which you get from internships. When I compare that resume with another one, where they have taken similar classes, but they also have done internship, then I prefer the latter one, even if the grades aren't a 4.0.
When applying for a full time job, I encourage people to look at not just what you're going to be working on, but also the people they are going to be working with. So look for a company that invests in good mentorship that helps you grow as an engineer. This also is important for your internship.
Now, one of the things that we like to do at RTI is to have the interns be part of the engineering team like anybody else. It's not like we have an internship corner. Ideally we like to provide our interns with a job offer at the end of the internship. It doesn't happen always for a variety of reasons. However, we often consider an internship as the ultimate way to get to really know a candidate. We try to give them interesting projects, but also pair them with somebody, a senior engineer, who can help them grow, not just only for the internship, but for when they look at jobs. In our world, it is not about moving fast and breaking things. That doesn't work when you build an autonomous vehicle or wind turbine. You need to think about reliability. You need to think about performance, scalability. Much of that wisdom comes through osmosis by working with people who've built those systems. Look for an internship or for a job where you have those mentors.
The third thing that I would recommend to students is don't wait until you're about to look for a job to get your resume going. Your preparation started yesterday. So start building your brand and your online profile. Sometimes that requires that you spend a little bit of extra work to finish up a project. Write a blog post of it, capture a video of your demo, check your code into github. Recruiters look at your online profile. We look at the type of project you worked on: are they just class projects, or is this something you are passionately working on?
We've run into candidates at RTI who we weren't convinced about initially. Then we found they actually had posted some of their applications on the Apple store or on the Google store. We downloaded them and were impressed, "wow, this person put something really neat together." We ended up making the right decision and hired this candidate.
Mike: So, those goals for students right there might not be things they're thinking of. Or maybe they are typical today since it's 2019.
Jan: Yes. I wrote a post of one of the blogs at RTI.com. I can send them to you later…
Mike: Yeah, I can post those for sure.
Jan: In the blog post, I discuss what people can do before their first interview, or what to expect from the phone or in-depth interface. I'm surprised how some students come unprepared to the interview. For example, if the interview will be using Skype, did you test that you have a working video camera and microphone in advance? Did you check the company website or try the product?
Mike: Of course
Jan: You would think people have researched the company and products a bit. However, a large percentage of applicants haven't spent time learning about the company. That's not good. The blog posts I mentioned are a list of common tips which hopefully serve as a reminder to students, "Oh yeah, I should not forget about that."
Mike: That's why we do interviews like this. Right? Yeah, that's great. We're talking about the "industry ready" skills and experience that you guys look for.
So, I do have a question for you or whomever at RTI is doing the hiring. Let's say you have a narrowed down list of candidates for one particular position. Is there one differentiator that makes you choose one particular candidate over another when they are all relatively equally qualified?
Jan: Let me first say that we rarely hire somebody for one specific skill set. There are exceptions: e.g., when we look for a front-end tools person, we will look for somebody who loves User Interfaces, and has some [experience with the] common UI technology set we use. Though typically we spend a lot of time figuring out the general qualities of a candidate.
We're looking for a candidate that is talented and brilliant. When I joined RTI more than 10 years ago, I was surprised how many people at RTI didn't have a computer science background. They could be aerospace engineers or mechanical engineers who are smart and like writing software.
We're also looking for people who are curious and people who want to learn new things. Furthermore, we're looking for people that have grit. The typical developer in the team isn't jumping from prototype to prototype to yet another cool quick project. Second to last, we're looking for people of high integrity and that have good communication skills.
Coming back to the question you asked me, what is the determining factor? Well, the most important characteristic on our list is whether the candidate fits with the culture. And that is not about hiring similar people. We have quite a diverse group. We want people that fit in with our values. You can find RTI's values on our website: it's about a cultural of excellence, honesty, integrity, and respect.
I read an interesting article not too long ago with the title 'Don't hire brilliant jerks'. The article was cautioning against hiring somebody who may be the smartest person out there, but who may not work well with others. They may end up doing more harm than they bring into the company.
So when we have to decide between equally qualified candidates, the determining factor is how well do they work within our culture. When you hear horror stories here in Silicon Valley, or epic company failures, very often you can trace it back to when the culture went astray. That's why for us, company culture is critical. Internally we call it One RTI. And there are a lot of things we do in that and as part of that to maintain, to build, to grow that culture.
Mike: That's great. And I imagine the internships, the "test drives", help both you and the intern to get a good feel of the environment which helps both parties make good choices.
Jan: Exactly. It is also why we treat interns like any other engineer in our group, and invite them to all meetings and company events including where we discuss the financials. We want the intern to experience RTI as it is every day. Like with any candidate, an interview goes both ways: we learn about the candidate, but also the candidate gets to learn about RTI. Interns have a front seat. Other candidates only have the opportunity to learn about us in a short time when they come on-site.
Mike: Sure.
Jan: We encourage candidates to ask a lot of questions to figure out whether they are going to like
working here. We're proud of the fact that we have low attrition. Although we're smack in the middle of Silicon Valley with lots of other opportunities, our engineers, many of whom started as new grads, are with the company 5 – 10 years. They tell us they like what they're working on, and they like the people and culture.
Mike: That does show a lot because I know out there, there are offers across the street a lot of times. That says a lot for RTI. So how do people learn about RTI? What's the website?
Jan: Our website is www.RTI.com. I also like to point folks to our careers page, and to the RTI blog (rti.com/blog), to learn about the culture, our customers and the technology. Here are the blog posts about how to write a good resume, and what we are looking for in new grads.
Mike: That's great, this was a lot of good information. I'm done with my questions and I just want to thank you for your time!
Jan: Thanks for the opportunity. If your readers, or any of the students have any questions, they can easily find me via LinkedIn or they can send me an email at jan@rti.com and I'll be glad to answer any questions they may have.
Mike: Well thank you Jan – bye now!