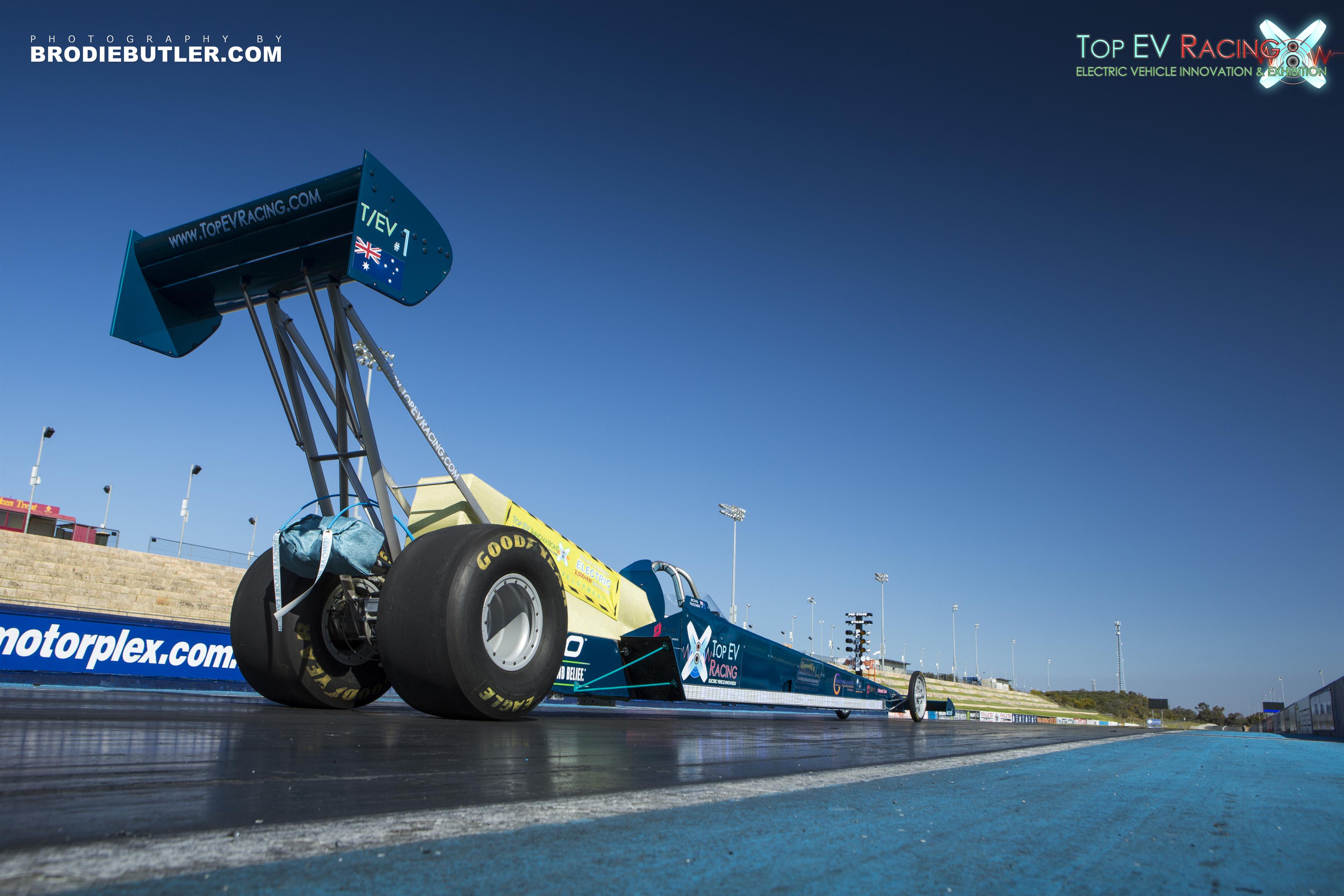 Bio: In short, Michael Fragomeni's professional career started in electronics at age 7, and by age 12 he was being paid to carry out repairs to home and car electronics for friends and extended family. Excelling through school, this lead to starting his own company "Sounds Xplosive Audio" and running it for 16 years – engineering show cars, components, and high-end audio systems, excelling with over 90 awards, including 7 national and international sound-pressure-level records, with the exclusive outright Australian record still standing. Now Michael has set out to eclipse his next 8 world records, this time by reaching high-speeds with his 612km/h Solar-Charged Electric Race Car, under the moniker of "Top EV Racing". Driven by innovation, and having the passion to strive towards what is yet to be achieved, Michael's practical approach is developing the latest technologies, and encompasses a huge list of achievements to date, including…
Young Australian of the Year – Outstanding Achievement – Science & Technology, for the development of his "Child Detection Pool Alarm", and representing Australia in Car Audio World Finals events internationally
2015 Nifnex Awards – Top 100 Influential Business Persons in Western Australia
Australian Sound Pressure Level Record Holder: Most Powerful & Loudest Audio System Engineered in Australia – 172.9 deciBels
6 "Best Innovation" Engineering Awards Australia-wide
7 National & International Car Audio Records
80+ International Print Publication Features
70+ Trophies Awarded Nationally & Internationally
Invented and patented his "Child Detection Pool Alarm" System to prevent children drowning in backyard swimming pools – founding "Pool Smart Technologies"
1st Place – "NASA Grade" High Reliability Hand Soldering Competition
Year 12 – Best Quality Project in Western Australia – Metal Construction – Custom Go-Kart – Accelerating from 0-130kph in 3.5 seconds
Much more information listed at www.linkedin.com/in/michaelfragomeni
Mike C: Hello Mike! Regarding Top EV Racing and where you came from; how did it all start?
Michael Fragomeni: I've been involved in electronics and all things automotive for my entire life, from when I was a child. My Mum and Dad were panel beaters and spray painters, so being around cars was impossible to avoid, and it's when they got involved with our family friends in drag racing, when I was about the age of 8 or so, that things began to solidify. By the age of 10 I was pit crewing for a 140mph Modified Altered, and the world of drag racing became very interesting, then of course as the years went on, I became more and more involved. My skills were getting better by the time I was a teenager at which I seemed very passionate about high-speed engineering and electronics.
My parents never wanted me to get involved in anything automotive, they wanted to see me become more technical and academic, work more with my brain than my hands I suppose. My involvement in electronics grew, a passion I had from a very early age too, and as time went on this inevitable path happened. I was working on electronics in the automotive sector, and within that car audio and power engineering specifically. It ended up being that I found my love in high power physics, high power electric drives which were essentially high-current amplifiers throughout this time, and that led to some very wild sound systems and some very customized componentry. There was a lot of custom engineering and development to a great level of understanding within that background, the meshing of the two – Automotive and Electronics.
Then after this now lengthy career, a few years ago I wound down that company to wind up Top EV Racing, so that's all now a piece in history.
Mike: So that's how you got started.
Michael Fragomeni: Yeah, and fundamentally throughout my career the Physics is all very similar; engineering batteries, amplifiers and speakers in the past and now it's batteries, controllers and motors. The electric motors and the speakers are both electromagnetic devices, but instead of moving a speaker cone to make high sound pressure levels, we're now turning a drive shaft to push a race car to high velocity.
Mike C: That's interesting. I never thought about it that way! So people, like myself, who are just getting introduced to in the last couple years Formula E™, and I see more and more Tesla electric passenger cars on the road, I didn't realize that a Tesla out of the factory starts at about 350 horsepower and they're really cool looking cars. So I like both of those things, the Formula E and I'm interested in Tesla and a lot of this "EV" thing is getting a lot of momentum. So, as far as Top EV Racing is working, can you tell us about that technology? Tell us about the dragster in some detail.
Michael Fragomeni: Our "Arc'd Up" solar-charged electric dragster is built as a Top Fuel class sanctioned chassis, with a 300-inch wheelbase. We've decided to work within the Top Fuel safety standards and class regulations, and why not as that racing class is the quickest and fastest racing on the planet. Those cars are aerodynamically stable and safe to the best standards, in NHRA, IHRA, FIA, we have today. So with a very decent racing platform in place we can apply our electric drive technologies and throw all of the power and innovation we can at it.
The drag racing platform itself is very repeatable for our benchmarking and R&D, one of the safest motorsports on the planet. We're trying to get the most out of our innovative machinery and our technologies, and it attracts global media attention, and this is where the crossover starts to happen – engineering and exhibition. My technical brain of engineering has to consider we're here to also put on a show for the crowd, we're here to be spectacular, and we're here to compete. We've decided to be apples for apples, we're keeping everything within Top Fuel class sanctioning, apart from the obvious driveline and fuel systems of course.
As we are nearing completion of Arc'd Up, we'll next hit the track and have to go through licensing. We're working with ANDRA, the Australian National Drag Racing Association to do so, and also in relation to the safety aspects with the electric drive systems. A lot of development is to happen in this area and there's a lot of safety regulations to be established and put in place so it remains a very safe sport into the future.
Mike C: Can you tell us the stats about the car, the power, timing, speed, the power of the drivetrain and all that good stuff?
Michael Fragomeni: Yeah, all the good stuff. The motor is capable of over 3,000 horsepower, the whole electric drive system is capable of over 3,000 horsepower, over 2.5 Million Watts RMS. It's capable of 17,000 foot-pounds of torque, which is 21,000 Newton-metres. The best torque figure that has recently been measured in a Top Fuel car is approximately 15,000 foot-pounds of torque peak. Now further to drag racing, we're working on land speed, asphalt-based land speed. We're to run the racecar on aircraft runways and go the extra mile or so, and be able to get the car up to half the speed of sound, which is roughly, dependent on air pressure and density, 612 kilometres per hour. That's the top speed goal we've set for Arc'd Up, with a ¼ mile goal of 0 to 330 mile an hour in 4-and-a-half seconds.
On an aircraft runway we won't have the racetrack surface preparation, you don't have that rubber and glue down on the track to stick you there like you do at world-class race venues, so we're not going to get the levels of acceleration on the land speed runs as we will on the drag strip, where we're aiming to eclipse 7G's, but we'll be applying the throttle ramping slower and then hold the power for longer and get the car up to its top speed. The car is geared to do 400 mile per hour, of course assuming no loads, losses, friction, aerodynamic drag, etc.
Mike C: You're going to do that in the dragster! The aero on the car is good for that mile an hour?
Michael Fragomeni: The aero is great. With aerodynamics, not a lot changes until you break through the speed of sound – supersonic, so it's really leading her up to those speeds.
Mike C: I imagine the stress on the frame and the wings and all that would be… I'm trying to think, what is it you're doing, is it double the quarter mile? At that speed, the forces are tremendous on the frame, I just didn't know if they were good for that.
Michael Fragomeni: They are tremendous and we're able to adjust much of the aerodynamics of the car, and furthermore we've designed and integrated an active aerodynamics control system on the car…
Mike C: Oh, wow.
Michael Fragomeni: Back to classes and sanctioning, one day soon we hope for Top EV to be a class of its own, and until then, we're being classed as Exhibition. A benefit to being classed Exhibition is that beyond the safety regulations we can adopt or use various new technologies as we develop them. We can set up the car "Top Fuel" spec and be apples for apples and beat those guys truly heads up, then turn on our technologies and go beyond. This is all happening over the next two to three years, so let's not get too ahead of ourselves!
It's research and development, so if I keep my engineering hat on, I can talk to you all day about that techie stuff; that's my passion. But the thing is, it's really limitless for us, and a dream come true for me. I've been working very hard at this and we have enough technologies, components, and aspects we're developing to keep us busy for decades and to innovate straight-line motorsport to what may seem unimaginable. It's an exciting future!
Mike C: It's great. I have a degree in chemical engineering, I definitely like the engineering aspects as well. I like the big loud noisy cars. There's nothing like hearing Top Fuel cars go off in front of you; it's downright traumatizing. But just the sheer engineering aspects of it we're discussing, it's a new world.
Michael Fragomeni: Well, it is, and the fact that you've touched on that, that's true. It has to be said, we're not here to convert people to Top EV instead of Top Fuel. Top Fuel is Top Fuel, and we are different and we're not trying to mimic them. We do have some different things too that they don't have, for example, we have a cryogenics and innovative fire suppression systems we've developed, so instead of fire, it's ice! We've also got our custom high-intensity LED readout down the side of the car.
Mike C: Oh, that's cool.
Michael Fragomeni: The spectators can see me bury the throttle to the floor and the LEDs go all the way up to the front and change color into red, for example. If I'm flat out and go sideways or smoke up the tires then they'll see me back out of it and get back on it, so there's this real time feedback of what the driver is doing to the crowd. The system also runs text, and is capable of 16 million colors, so that's going to have all sorts of data running down it which is not only visual to the crowd, but it's also transmitted to a mobile app we have currently in development.
Mike C: That's incredible.
Michael Fragomeni: You'll be able to download the Top EV mobile app soon, so stay tuned on the web, and you'll be able to see some data coming off the car in real time. We have aspects of our exhibition that are unique, so it's a change, it's different, it's an interesting thing.
A commentator at the race track recently interviewed me and said, and I hadn't thought of it that way before, but it's fire and ice; when we're running heads up against a Top Fuel car, one side of the track is fire, an explosion, and the other side is ice, it's freezing. I think for race track promoters and for sports marketers they can really grab onto us and put us in front of the crowd in a very new and clever kind of way.
Mike C: You're right, and I could keep going forever. I hope people appreciate the technology and power of course, more than the spectacle possibly. My personal thing, I'm more technical oriented and I'm a big F1™ fan and I appreciate the technology behind electric and all within that, and also this combination of everything amalgamating.
Michael Fragomeni: And while you said spectacle again, my goal is to do the biggest and longest burnouts the crowds will see, and my car has the instant torque, and high torque throughout the rev range to go so!
I know as growing up in drag racing, there were a couple of drivers that would always do near quarter mile burnouts and that's what the crowd came to see, especially in Top Doorslammer, Top Alcohol Funny Cars. Once they started using throttle stops in Top Fuel and Nitro Funny Car that curbed some of the big burnouts. I spent 5 years on a nitro team and we didn't use throttle stops, mostly. It was around that time that throttle stops came in, but Nitro Funny Car in Australia came under Exhibition classing at the time, so we technically got away without using a throttle stop and that gave the driver the ability to just do nice big burnouts for the crowd, and the crowd always loved it. So being a part of that, it's imperative that my goal is to do really, really big burnouts, every time. Maybe we'll be running in the 6 seconds for a while, and that'll take us lots of work to get into those 5s, but I'll be doing big burnouts every single time.
Mike C: That sounds great. All right, let me keep going. Obviously, your resumé is huge, I've seen it, but can you tell me the advantages of the education and the personal characteristics of your education that has helped you get to this point.
Michael Fragomeni: My education and qualifications, they're really just an extension of the fact I've had a passion to understand what I haven't been able to understand, over time, and always pushing that limit.
A lot of work I've done also is autodidactic, as it has been innovative a lot of the texts are yet written, I am very well researched, and I do take it very academically, and have to remain hands on always. It's that passion for science, I have no doubt, and I know that a lot of people have asked me the same question, and I think it's that question of passion and, of course, the experience that is the drive.
I've been working electronics my entire life. I've run my professional companies for now over 20 years, so I've been around this level of electronics my entire life. I've seen technologies come and go. I've seen technologies improve, and there are massive improvements in semiconductors and a lot of circuitry-based components, and of course now batteries and energy storage.
I love to stay on that cutting edge and even if I'm not able to play with some kinds of technology, I've always been able to read about it, learn about it, understand it, see what's coming next and see where things are headed, and what can be done yet.
A passion to want to understand, a passion to want to push the boundaries and push the envelopes leads to your own education and your experiences and your understanding in the particular field you want to achieve.
Mike C: Whilst we're on this subject, do have any suggestions for newer motorsport job candidates… In the landscape of new technologies, and bettering the existing…
Michael Fragomeni: A strategy to obtain a good position within motorsports… I would suggest that students, people of any age, if they want to get into or if they are into it and they want to grow in it, they need to really take on a particular direction, a focus on certain aspects of it. Become experts in those fields and then you'll be sought after. Once people realize that you're really good at one particular area of any kind of motorsport, be it internal combustion, suspension, braking, aerodynamics, or otherwise, then you're an expert and people will want to speak to you and get you involved in things.
It can be a difficult landscape, and even for me to speak on this as I've always been self-employed and created the niches and the services in my fields to date, but in saying that I've been involved in others projects and teams too, I've been involved in other people's ventures, so they sought me out for my particular expertise. It's a funny world, before we ever have experience, we're not experienced in those fields are we? But it takes people giving us a chance to see how well we can do, and it takes us to persist too.
So even if your particular passion may not be exactly where you're currently working within the motorsport industry, if you can show an extension of understanding in certain areas and disciplines, be it in electrical, hydraulics, or anything else; really understanding it and wanting to do something different and trying something different, then race teams and owners are going to want to talk to you and get you involved.
Mike C: That's a great answer. What technologies do you think students should pay attention to, or for people new in motorsports?
Michael Fragomeni: We have the fields within electric drivelines now opening up and adapting into current and existing platforms. We're seeing in the last 5 years some big advancements. It really is efficiencies in the electrical side of these technologies which is my passion. Mechanically, we should be looking at the direct drive solutions. We should be looking at very efficient gear systems and lubrication systems for gears and bearings. We're currently using a Top Fuel type diff in our racecar; we decided to use the mandated differential so again it's apples for apples, and we wanted to be able to retrofit our custom driveline components into the existing styles of racing chassis and final drives over time and build more race cars in other classes. But we're going to see differential drives change.
We're going to see diffs that are more efficient or drives that are more efficient and less drag. And you're already seeing it now in ceramic bearing technology. It is about driveline efficiencies start to finish, so I think it is in using low friction surfaces, and instead of using gears for speed reduction or if you're going to use any gearing, moving away from actual geared cogs, and I know that some engineers out there, including my team, that are working on that. You're going to see some changes in those areas, so I think there's plenty of fruit for the picking, and dig deep.
Mike C: That's fantastic. I guess I'll put this in there: What are the differences in the behaviors between let's say the Top Fuel engine or the high powered engine and electric? Is the torque different? Or does the power come out instantly versus building?
Michael Fragomeni: This is a really good question. Top Fuel cars specifically, as you may know, slide their clutches to about half-track and then they go into lockup at around half-track. So they're revving right up past 8,000 RPM. They're supposedly making 10,000 horsepower, but they're slipping it and destroying it all and wasting it as heat, friction, vibration and sound. So they're not applying any of that power for the first half of the track, at least.
Mike C: That's right.
Michael Fragomeni: In our electric drive setup, we have direct drive, so no losses of energy, no clutches slipping, and apart from the one gear reduction – our current diff setup, no other sorts of gears – like in the case of a Top Alcohol car for example, that has a series of gears, so we're already a lot more efficient mechanically. It's direct hit, 100% of our torque from practically 0 RPM, so we won't have the problem of starting or idling an engine, revving up an engine, sliding a clutch and then depending on how we lock the clutch up or go through the stages into lockup, that won't affect our fuel curve, our ignition mapping, our blower boost, humidity won't affect us, air pressure and temperature won't affect us. Humidity and temperature will affect our traction of the rubber on the track, and a bit of aero considerations, but it won't affect much else at all, and that is all apples for apples with every other car on the track that day too.
Mike C: So, to wrap it, let's backtrack with everybody. If you condense it all down for the students or for the people in the career, what's the number one trait or characteristic you think contributes to a student's future motorsport career success? I think you said it already, but what do you think is the most important thing?
Michael Fragomeni: The passion to want to understand what has yet to be achieved, and that's where innovation lies, that's where change lies, and that's where enhancement grows from, with the possibilities for someone to bring their intelligence, their unique point of view to the fore.
Mike C: That's great. Thanks Michael – this was fascinating!
Michael Fragomeni: Thank you every so much Mike, we've touched on a lot, and we could elaborate seemingly forever!